Here is some more info on the
komainu
. I thought they were pretty interesting and deserved further detailing.
While researching for this entry I began to get a little confused. There were two terms for these things,
komainu
and
shishi
, floating around and I couldn't figure out what the difference between the two was. I am still not 100% clear on the answer. The name
shishi
seems to come from Chinese (shi meaning both stone and lion). It seems that when they are referred to in a mythology sense they are usually called
shishi
. At first I believed that those in front of Shinto shrines were always referred to as
komainu
. But it seems that one should be called a
shishi
and the other a
komainu
. However, even in Japan, most people use
komainu
to refer to both of them. It really seems as though the terms are more or less interchangeable these days and that while a difference between the terms surely existed, it is starting to be lost, or at least isn't agreed upon.
Shishi
and
komainu
were once two separate Wikipedia pages, but now they have been very awkwardly combined further supporting my theory. And my final weird note is that if I search Google in Japanese I get lots of picture of these things with the term
komainu
, but almost none with
shishi
. In this entry I'm going to operate on the assumption that they mean more or less the same thing and go from there. Now that that's out of the way…
At Shinto shrines in Japan, two of these lions stand guard against evil. One is portrayed with his mouth open, the other closed. My Japanese English teacher was the one who told me that it isn't a dog, even though it has dog in its name, although on Wikipedia it calls them dogs and just says they look like lions (so remember, don't trust Wikipedia!). These stone lions were imported from China, like lots of other stuff that ended up in Japan. Legend portrays the shishi as playful but protective in nature. Although they are said to be very protective of their cubs they are also said to throw them off of cliffs to test their strength. Talk about tough love…
Interestingly though, in China these lions were used mostly for Buddhist temples and the Imperial Palace, while the komainu are a Shinto thing. Even more interesting is that there is no evidence of lions EVER being indigenous to China. However, Asiatic lions were common in India, and as Buddhist priests from India came to China, so did stories of these stone guardian lions that stood in front of and protected temples, monasteries and palaces in India. Now, no one in China had ever seen a real lion before, but they wanted these fearsome stone guardians to protect their temples too. So they modeled their versions after native dogs (dogs are fearsome too after all), such as the Chow Chow (whose name apparently literally translates to "puffy lion dog").
Since the things were modeled after dogs in the first place and no one in Japan had probably ever seen a lion either (after all, the Japanese word for lion is raion in katakana, ライオン , indicating that it came from western influence much much later than these things came to the country), it makes sense that the Shinto version of these guys are named as dogs, as that is what they most closely resemble. Japanese people might have seen a Chow Chow after all.
These things always occur in pairs. The male is always on the left and the female on the right (from their prospective, so facing them it is the opposite). The Chinese (Buddhist?) versions play with a ball (male) and a cub (female), while the Shinto versions seem to be lacking this distinction (a set on my island features both with a ball, for example). The ball represents the Flower of Life while the cub represents the life cycle. The male lion protects the structure itself while the female protects those inside the dwelling. Then there is the distinction of the male having an open mouth and the female a closed mouth. The significance of this is unclear though. In some cases it is said to represent the sounds of the sacred word "Om" (open mouth= A; closed mouth =M), the supposed first and last sounds of the universe. Other cases claim that the male in inhaling (mouth open) representing life and the female is exhaling (mouth closed) representing death. And there are probably even more ways to interpret these things.
But as with many Japanese things, I'm sure a lot of you have seen these things before and just didn't realize it. Anyone remember the Mighty Morphin Power Rangers? In the second season, the Black Lion Thunderzord is a shishi.
And remember Pokémon? Growlithe and its evolution Arcanine are based on the s
hishi,
as is the legendary Pokémon Entei. Now it kinda makes sense why most of the Officer Jenny characters had a Growlithe. It is a protector after all.
One also appears in Final Fantasy X as a sidekick to Yojimbo.
And if you've seen the movie Kill Bill you may remember that the image of a s
hishi
can be seen on the lower half of the blade of The Bride's sword.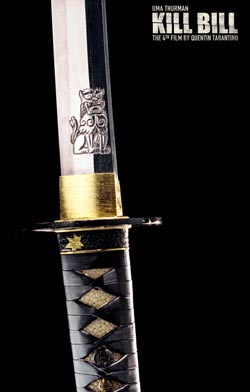 And remember Ojarumaru? Of course you don't. But I watch it almost every day. It's been running since 1998 and apparently has over 1000 episodes! It has characters that are
komainu
and come to life for various misadventures.
If you like this kind of entry let me know. I recently bought two books all about various Japanese demons that I'd love to have an excuse to try and translate. I have TONs of info on Japanese mythology and folklore and would love to share it if people are interested. But I only know what you tell me in the comments below!