I mentioned Daruma dolls briefly in
my last post
. I was about to include more details on the little guys when I realized that I could probably just write a whole post about them. These little guys are really common in Japanese culture so you may have seen them before but not really known what they were.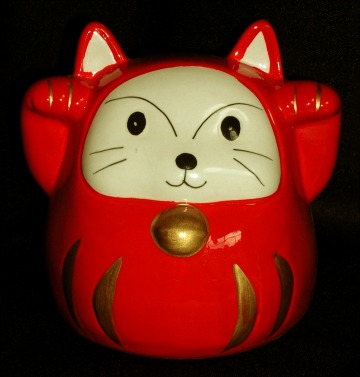 Daruma dolls are usually red and have the face of a bearded man. However, a great variety of designs does exist. They are apparently modeled after Bodhidharma, the founder of Zen Buddhism. Bodhidharma really existed and he is mentioned in many historical records. But no biographical records really exist and the man has become more of a legend. He is usually seen as a very devote but somewhat senile monk. He is apparently well known for his practice of "wall-gazing" or staring at a wall in meditation for long periods of time. One legend claims that he sat facing a wall while meditating for nine years without moving, which caused his legs to fall off due to atrophy. Another legend says that he fell asleep during this nine year meditation. He was so angry at himself that he cut off his eye lids to prevent himself from falling asleep ever again, and his discarded eyelids sprouted the first tea plants. All in all he seems like a rather hardcore monk.
Daruma dolls are typically red because high ranking priests in Zen Buddhism wear red. And since Bodhidharuma was the founder of the sect, he surely must have worn a red robe. They are usually made of papier-mâché and are weighted at the bottom so that they always return to an upright position when tilted over. In Japanese this type of toy is called "okiagari" for get up (oki) and arise (agari). Because of this, Daruma dolls are symbols of perseverance, the ability to have success, overcome adversity, and recover from misfortune. They are often seen with the phrase "Nanakorobi Yaoki" which mean fall down seven times, get up eight times.
Apparently the facial hair on the dolls is also significant. The eyebrows are commonly shaped to resemble a crane and the cheek hair to resemble a tortoise shell. The crane and the tortoise are symbols of long life as the crane is said to live 1,000 years and the tortoise 10,000 years. I can see the crane in the eyebrows of some of the dolls, but I have trouble seeing a tortoise shell in the cheek hair. And many of the dolls don't seem to carry these symbolic markings.
The last really common feature is that they are normally sold with blank eyes. This can look a little creepy, but it has a really interesting explanation. When you are going to start a big project or set a goal you fill in one of the eyes. Then, every time you see your one eyed Daruma doll you are reminded of your goal and work toward it. Even if you have trouble you remember that the Daruma always gets back up and you keep trying. When you accomplish your goal you fill in the other eye. The promise of getting full eyesight is also supposed to encourage the Daruma to help grant your wish. So they are good luck to have around when you are working on something big. In the video game Okami there were several one eyed Darumas in the game. If you filled in the other eye with your Celestial Brush you got a reward.
Daruma dolls are "effective" for one year. At the end of the year it is customary to take the Daruma doll back to the temple you bought it from. Just after New Year's Day the temples hold a traditional burning ceremony. Here you can express your gratitude to the dolls for their help and purchase new dolls for the next year.
A random side note I thought was interesting: In the Edo period merchants were considered low class and so they developed their own cultural humor making fun of things that the higher classes held sacred. And so the Daruma was satirically depicted as a prostitute since they both share resilience for laying down and getting right back up. Female Daruma are still seen today, although now they have the same wholesome image as their male counterparts.
In Japan a snowman is known as a yukidaruma. Yuki means snow. Japanese snowmen almost always have two parts as opposed to the western standard of three. Baskin Robins (often simply called 31 here) is having a summer promotion of two scoop yukidaruma ice-cream, a large bottom scoop and a smaller second scoop.
One last thing I should probably have included in the last entry is Daruma Otoshi. This ancient game has a Daruma doll in 6 pieces. The game is played by using a small hammer to try to knock out each piece from bottom to top without knocking the whole things over. The game is still common today and I've seen my elementary kids play it.
While most places I looked at agreed that different colors had different meanings, they didn't seem to agree on what the different colors meant. On one site a blue Daruma was for health and longevity and on another it was for personal achievement and success. White was listed as love and harmony, new birth and best wishes, or purity of mind and a wedding present. Purple was long life and preventing disasters or advancement in career. Green could be to remind you of your beginners mind at all times (?) or be for good health and vitality. Other colors are a bit more standard. Red is always general good luck and gold seems to always be associated with wealth. Several sites agree that yellow is for security and protection. Black seems to be for warding off evil and for a successful business year. Only one site listed orange and it was listed as success in school. Pink almost always seems to be associated with love and relationships and childbirth. Basically my best advice is to check with the temple or place you buy one from and see what they recommend. Internet options also exist such as
this one
which is in English and has some really good info.